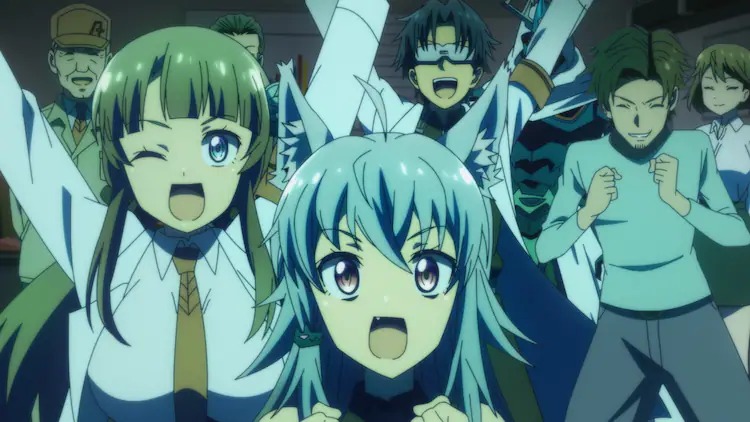 Combattre des monstres est difficile, mais les fabriquer l'est encore plus, surtout lorsque votre patron les réclame depuis cinq minutes. Pour aider à la création des créatures, lesMlle KUROITSU du département du développement des monstres. L'anime TV, qui adapte le manga de Hiroaki Mizusaki, a fait appel à deux personnages originaux de l'anime, dont les doubleurs ont été annoncés aujourd'hui.
Yurie Kozakai (Yuki Yoshikawa dans Horimiya) jouera le rôle de Karen Mizuki et Nao Shiraki (Yoshino Kawaguchi dans Tamayomi) celui de Heiki Matsuyama. Le couple original de l'anime sera présenté dans l'épisode de samedi prochain deMlle KUROITSU du département du développement des monstres.qui est diffusée en streaming sur Crunchyroll. Le streamer décrit la série comme suit :
Suivez Mlle Kuroitsu alors qu'elle crée des créatures pour une organisation de méchants afin de lutter contre les super-héros !
Dans le fauteuil du directeur pour Mlle KUROITSU du département du développement des monstres. est Hisashi Saito (Haganaï) au studio d'animation Quad, avec Katsuhiko Takayama (Mirai Nikki) a écrit les scénarios, et Kazuya Morimae (directeur de l'animation de The Testament of Sister New Devil) a adapté les dessins originaux du manga en anime.
Source : BD Nathalie

—-
Daryl Harding est correspondant au Japon pour Crunchyroll News. Il dirige également une chaîne YouTube sur le Japon appeléeLeDocteurDazza, tweets à@DocteurDazzaet publie des photos de ses voyages surInstagram.
Cet article a été rédigé par et traduit par Dragon-Ball-Universe.com. Les produits sont sélectionnés de manière indépendante. Dragon-Ball-Universe.com perçoit une rémunération lorsqu'un de nos lecteurs procède à l'achat en ligne d'un produit mis en avant.