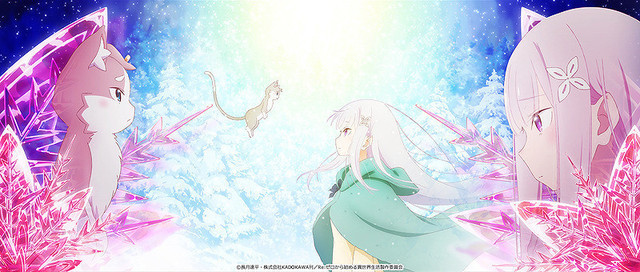 Le site officiel de la franchise d'anime Re: ZERO -Starting Life in Another World- a annoncé aujourd'hui qu'un DVD / Blu-ray de son deuxième épisode OVA Hyoketsu no Kizuna / The Frozen Bond devrait sortir au Japon le 1er avril 2020. , cinq mois après sa sortie en salles. L'épisode préquel de 80 minutes consacré à la première rencontre entre Emilia et son esprit magique Puck a été diffusé dans 79 salles à travers le Japon le 8 novembre et a rapporté 250 millions de yens au cours de ses six semaines.
En plus du DVD et du Blu-ray en édition standard de 5 500 yens, le Blu-ray en édition limitée de 8 800 yens sera également disponible. Ses fonctionnalités bonus incluent:
1. Boîtier extérieur spécial du nouvel illustrateur Shinichirou Otsuka
2. Digi-pack spécial par la créatrice de personnages d'anime Kyuta Sakai
3. Storyboards « The Frozen Bond »
4. Livret spécial (dessins d'animation clés, références de personnages, bonus pour les amateurs de théâtre)
5. Édition de taille réduite de la brochure officielle pour la sortie en salles
6. Images bonus (PV, etc.)
7. Commentaire audio
En outre, ceux qui précommanderont le Blu-ray en édition limitée dans les magasins désignés, y compris Animate et Gamers, recevront un porte-clés en acrylique avec une illustration nouvellement dessinée par le concepteur de personnage d'anime.
"Re: ZERO -Starting Life in Another World- The Frozen Bond" 3e PV:
Résumé PV:
Visuel clé: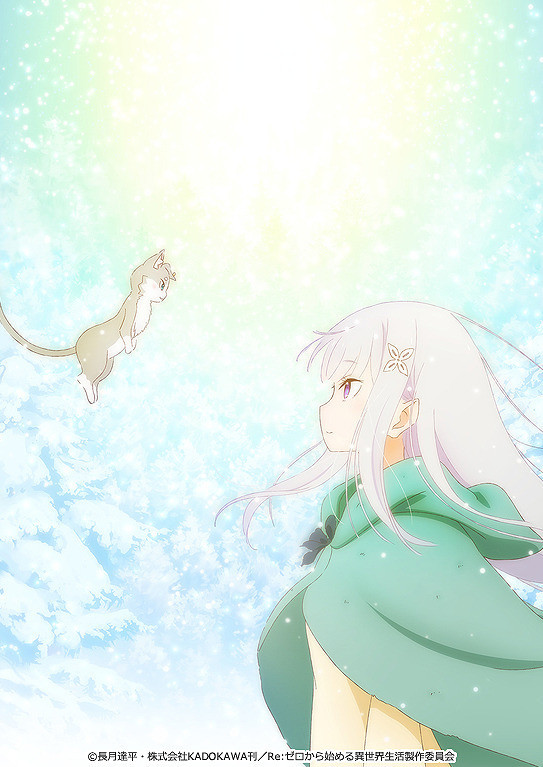 Source: "Re: ZERO -Starting Life in Another World-", site officiel d'anime
© Tappei Nagatsuki, KADOKAWA / Re: Zero – Commencer la vie dans un autre comité de production mondial