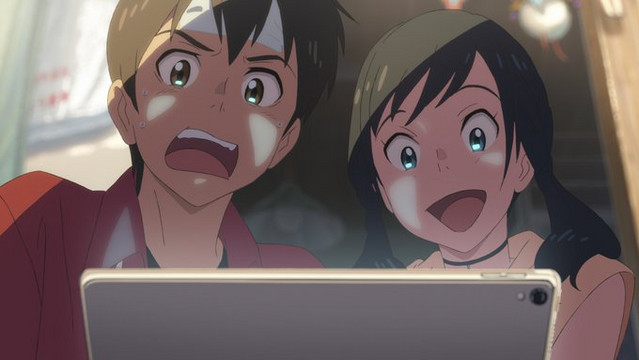 Tenki no Ko / Weathering With You de Makoto Shinkai a annoncé aujourd'hui que le film avait vendu dix millions de billets au Japon le 1er octobre, en 75 jours depuis sa sortie le 19 juillet. Il était 36 jours plus tard que son précédent film Kimi no Na wa./Votre Nom. en 2016.
À son onzième week-end, le film fantastique romantique gagnait 13,2 milliards de yens. Il est devenu le septième film japonais le plus rentable de tous les temps, surpassant le film Kazetachinu / The Wing Rises de Hayao Miyazaki (2003), qui a rapporté 12,02 milliards de yens en 2016.
Même près de trois mois après sa sortie, Weathering With You rapporte toujours plus de 100 millions de yens par semaine. Si ce rythme continue avec l'aide des projections MX4D / 4DX qui ont débuté vendredi dernier, il devrait mettre fin à sa course nationale avec environ 14 milliards de yens, soit environ 55% de Your Name. dont le total intérieur brut était de 25,03 milliards de yens.
À la une ???? À la une ???? à la Une 1000 à la centaine 75頂 い 1 人 ひ と !!
– 画 @ 天 気 の 子 』(@tenkinoko_movie) 2 octobre 2019
「
– 画 天 気 の 子 』(@tenkinoko_movie) 27 septembre 2019
Source: Twitter officiel "Météo avec vous"
(C) 2019 Comité de production "Tenki no Ko"